When can I start processing payments?

Once you have completed your BlueSnap Setup form, the application is sent to BlueSnap to begin the underwriting process. The merchant account setup can take 3 - 5 business days to be completed. Once your merchant account has been approved for processing, we will issue a test payment and refund to confirm. Once confirmed, you will receive an email notification from payments@regpacks.com. You will be able to begin processing payments at any time.


What are my processing rates?

Upon joining Regpack, your sales representative will quote and confirm your credit card and electronic check processing rates. To receive confirmation of these rates, please email payments@regpacks.com. Your rates are also listed in the Terms and Conditions in your Regpack account.


When will I receive the deposits from my sales?

When completing your BlueSnap Setup form, you are given the option to receive your funds on a Daily, Weekly or Monthly payout schedule. The option you select will be the frequency in which you will receive the deposits for your sales.
Daily - It takes BlueSnap three business days to fully process a daily payout schedule. You will receive your funds three business days after the billing date. For example, funds accepted on Friday, will be deposited into your account on the following Wednesday.
Weekly - The Weekly payout schedule is based on calendar days (Monday - Sunday). You will receive your deposits on Tuesday of each week, for the previous Monday - Sunday weekly billing cycle.
Monthly - With Monthly payout, you will receive your deposits on the 15th of each month, for the previous months billing cycle. For example, funds accepted during the month of January, will not be deposited into your account until February 15th.
How can I pull the payout reports to reconcile my sales deposits?

When completing your BlueSnap Setup form, you will be prompted to provide the names and emails of those who will need access to your merchant account in order to view your payment reporting options. During the underwriting process of your application, those provided will receive an invitation email from BlueSnap to gain access. To reconcile your deposits, you will need to pull the payout reports. The payout reports will provide you of a summary sheet, which provides your total gross and net sales and total fees charged. Along with the summary sheet, is the detailed sales report. The detailed sales report will provide a full transaction history breakdown that makes up the deposit you received. To pull the payout report, first make sure you are in the Reports interface by clicking "Reports" found on the left of your screen.



From the reporting options, click "Payout" to view the payout reporting options, then click "Processing Statements".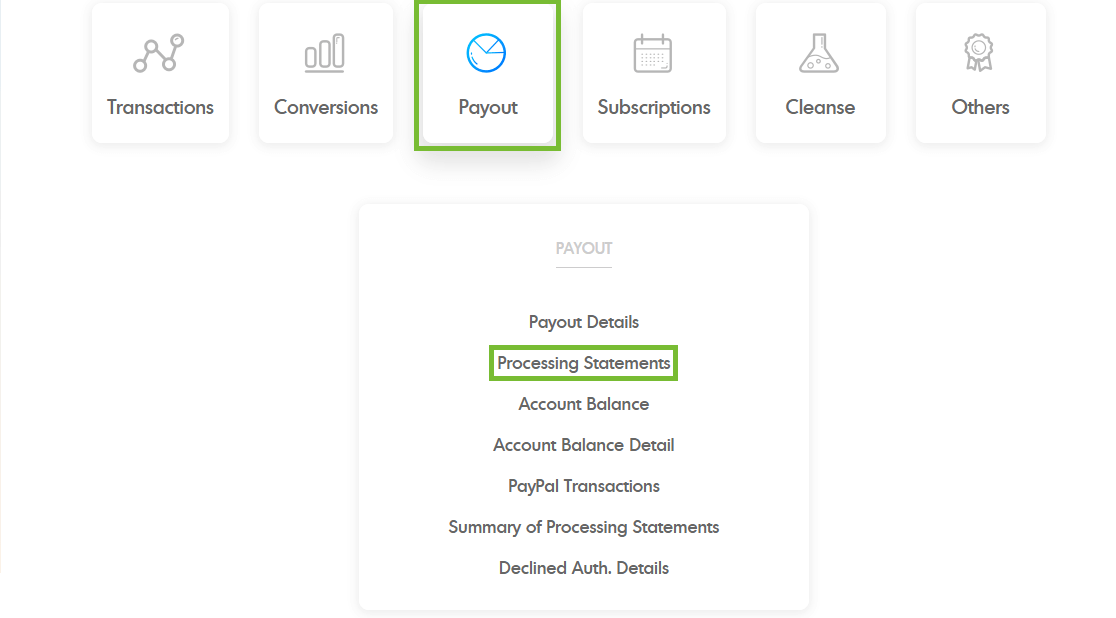 Click "Summary Report" to view the "Payout Summary Statement", see example below as well.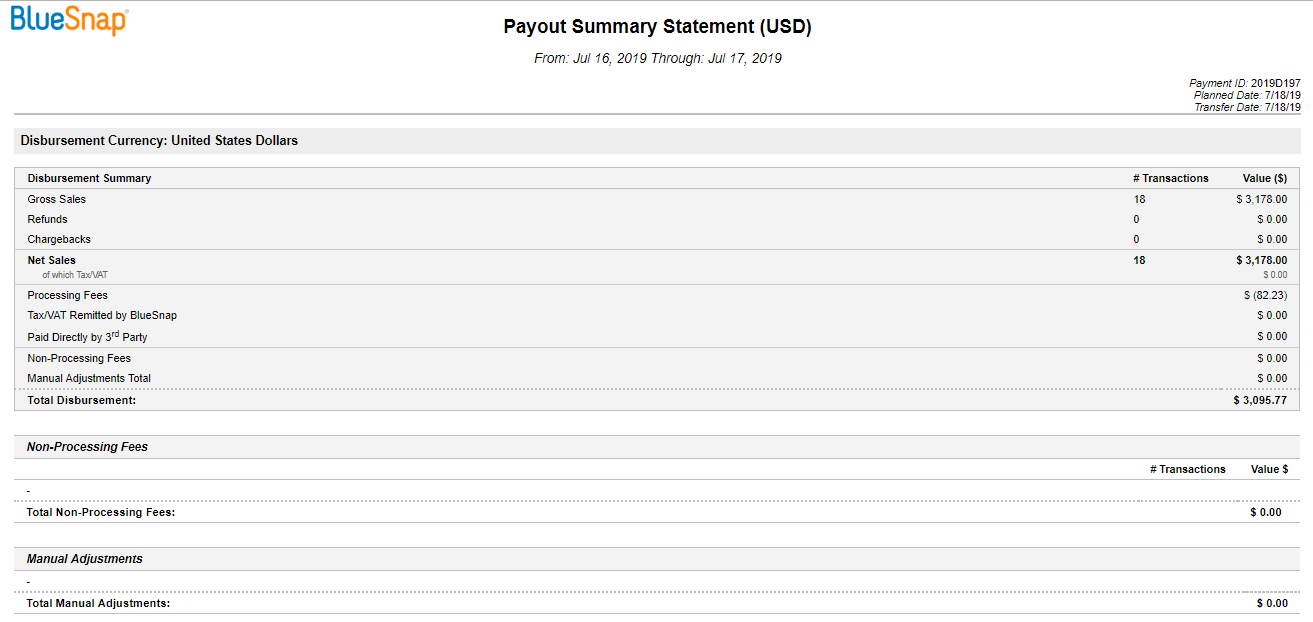 Click "Detailed Report", then click "Download" to pull a full breakdown spreadsheet of each individual transaction that makes up the deposit. The detailed report provides the following:
Payout Transfer Date
Transaction ID#
Shopper Payment Date
Transaction Type (Charge or Refund)
Payment Method (Visa, Mastercard, Electronic Check, etc.)
Shopper Transaction Amount
Gross Sales
Processing Fees
Total Disbursement
Regpack Metadata

Project ID the transaction took place in
Soft descriptor
Applicant Name (if available)
Tax collected
Fees collected
What are all of the fees that BlueSnap charges?
With Weekly and Monthly payout, you are charged a $2 transfer fee to have the funds deposited into your bank account. You are not charged a transfer fee with Daily payout.
If you opt to receive your payouts via wire transfer, you are charged a $22 wire transfer fee per transfer.
When user's pay via electronic check, it takes 3 - 7 business days to fully process the payment. If the e-check later declines, you will be charged a $4 e-check reversal fee.
When a Chargeback is issued by a shopper and their bank, you are charged a $15 chargeback fee.
Note that Chargebacks are charges that are rejected by the payee. They are instigated by the user, but they can be appealed within 7 days. You will need to provide additional documentation during the appeal. If you do not appeal them within the 7 day timeline it will result in a negative notation on your vendor account and repeated chargebacks can lead to the cancellation of your vendor account. More on chargebacks here.

Why am I unable to issue a refund due to insufficient funds, when I have sufficient funds in my bank account?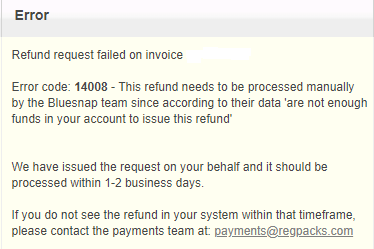 Unfortunately due to Covid-19, BlueSnap is not allowing accounts to go into the negative for risk purposes. This means that with each refund request with insufficient merchant account funds, we will need to provide you with a wire link to send the funds to BlueSnap to fund your merchant account in order to cover the refunds. The following wire link can be used to fund your merchant account. To complete the payment, please enter the amount you want to transfer and then complete the wire. After the transfer is completed, please send the payments team at payments@regpacks.com the reference number, MID, amount, and proof of payment which they will then give to BlueSnap to credit your merchant account. They will also set a refund reserve in the wire amount to ensure that the funds you send are applied to your refund reserve.
If you'd prefer, BlueSnap can also debit the account on file for the funds needed to issue these refunds; they can debit the merchant account in any amount requested. Please note that the direct debit of your account can take up to 5 business days to clear and there is a $20 direct debit fee to do this. If the refunds need to be issued sooner, you will want to send a wire.
The payments team can also set up a refund reserve on your account. Refund reserves are a set amount of funds that remain in the merchant account to cover refunds if needed. You choose the amount, and the amount can be adjusted at any time. Once the reserve is set, incoming sales funnel to the reserve until the target amount is met. Subsequent sales are paid out, and the reserve is replenished with incoming sales when depleted by refunds. If you'd like your reserve paid out to you, we can set the reserve amount at $0 and any unused funds would be sent in your next scheduled payout.