What is Regpack Purchase Protection?
Purchase Protection is a service that is offered to your registrants that allows them to be reimbursed if they need to cancel unexpectedly due to health reasons. Our goal for this service is to protect your organization's revenue and support your cancellation and refund policies.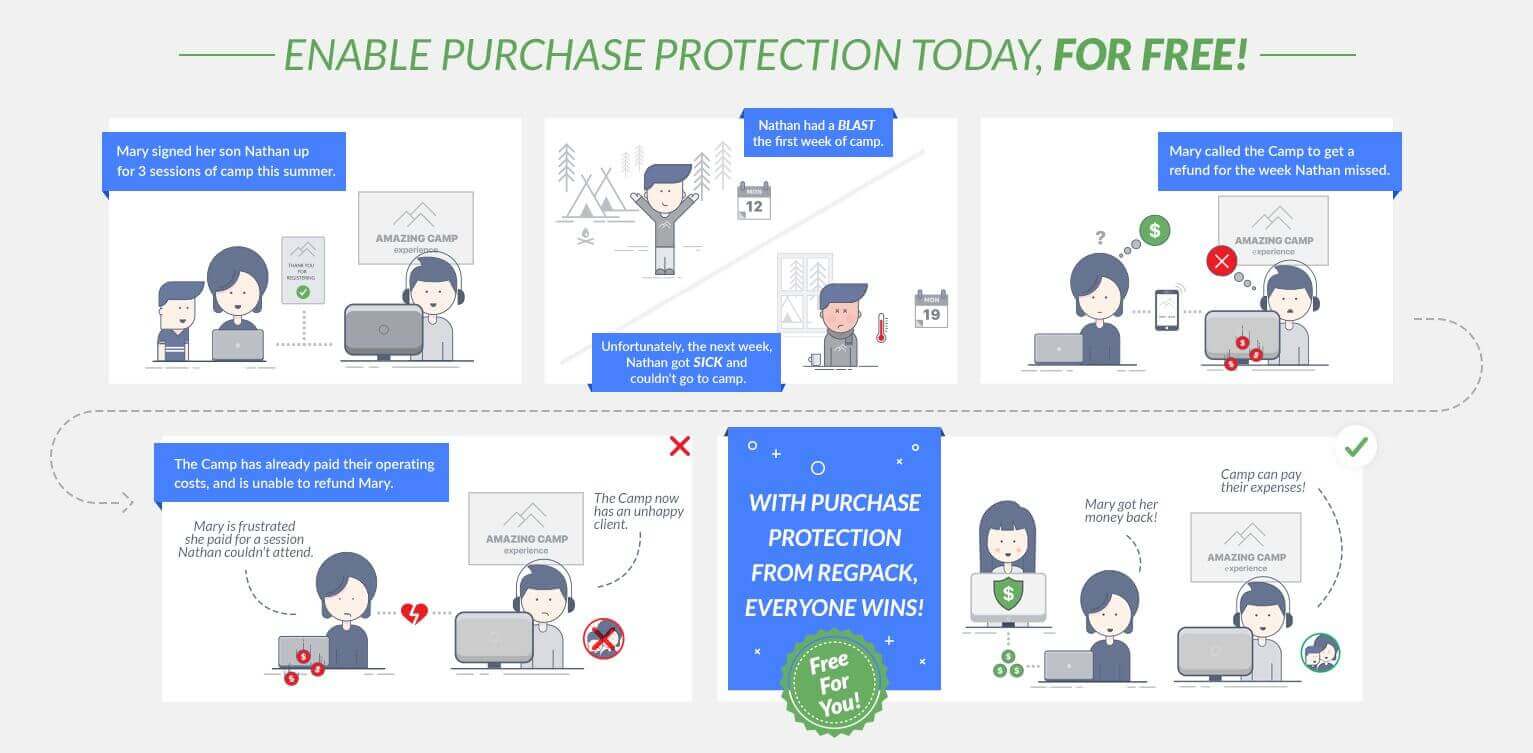 What does offering Regpack Purchase Protection cost me?
There is no cost for you to offer Purchase Protection. Users have the option to pay for Purchase Protection at checkout for a small fee, and if they cancel they receive a full refund ($3000 cap).
Is Purchase Protection on in my system?
Purchase protection is the default setting in all projects, and can be adjusted to cover only certain products according to your preferences.
What qualifies for Purchase Protection?
Claims can be filed if an applicant needs to cancel due to the illness or death of the applicant or their immediate family member. Any claim submitted that meets the conditions outlined in the Purchase Protection Terms must include a doctor's note and other supporting documentation. Qualified claims include illness or death of the applicant or the applicant's immediate family.
When can an applicant purchase Regpack Purchase Protection?
Regpack Purchase Protection can be purchased by an applicant any time and is available until the activity date.
What products are eligible for Regpack Purchase Protection?
Any purchase through Regpack that requires attendance is eligible for Purchase Protection. Physical products and/or merchandise as well as travel that is not included in the program price, are not covered by this service.
Do applicants have to pay in full or can they pay in installments?
Purchase Protection must be paid in full at the time of enrollment. If the applicant adds more eligible orders to their cart our service will automatically calculate any additional enrollment fees and include them in their cart. If you are using
autobill
, Purchase Protection will be paid in the first installment.
Can a user order Regpack Purchase Protection after their initial payment?
Yes, Regpack Purchase Protection can be purchased at any point up until the start date of the event or program.
Can Regpack Purchase Protection be canceled?
Regpack Purchase Protection can be refunded within 24 hours. After 24 hours, Purchase Protection is non-refundable.
What will the transaction on a bank/credit card statement look like for Regpack Purchase Protection?
The Purchase Protection payment will appear as PurchaseProtection on the applicant's bank or credit card statement.
How does an applicant file a claim?
Applicants can file a claim
here.
How long does it take for a claim to be processed?
Claims must be submitted within 30 (thirty) days of the incident and must be completed in full with supporting documents. Claims are paid out within 45-60 business days. Delays are possible during peak seasons and holidays.
If an applicant's claim is rejected, can applicants still get a refund?
A rejected claim does not entitle the applicant to have their Purchase Protection fees refunded and does not require you to work outside your existing cancellation and refund policy. Your organization is able to provide a refund if necessary.
Is there any additional work for me? Do I have to collect doctor's notes and assist in claims?
There is NO additional work for your organization. If Purchase Protection is enabled on products in your project, users can order and pay for it themselves, and
file a claim
independently if needed.