An email will be sent out every 24 hours displaying the autobill information on upcoming charges for the next day on all projects that have active autobilling. The autobilling email will provide you with statistics and quick links to navigate to the project specifically mentioned in the email. This email will only be sent out and/or accessible by Super Admins/Financial Admins.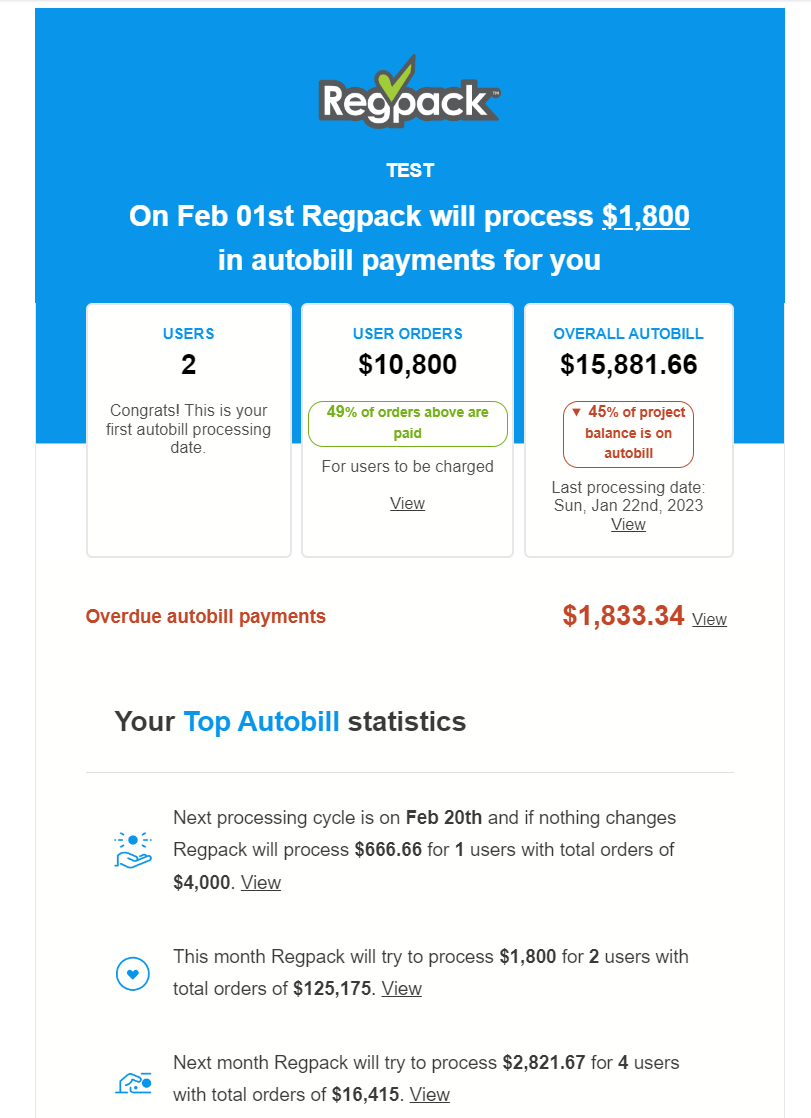 Additional Autobill control with Payment Pause/Resume
Admins now have the ability to pause autobill charges to individual users. A warning message will display and all of the autobill will display "Paused" for each payment date in Autobill.
In User Management click on the user's name --> autobill tab --> "Pause Auto-Payments."
When a user's autobill plan is paused, there will be a "Resume Autobill Payments" button.
During the time payments are paused, manual payments by the admin of the system can be made if needed.
Filtering for Users with Paused Autobill
In User Management click search --> Payments and Autobill --> Autobill --> Autobill Payments Paused.
This will show a list of users whose autobill payments are paused. In order to resume payments, select "Resume Auto-charging payments" on the autobill tab for each user.
Note: By pausing autobill for a user you are understanding that autobill will not be run on these users until autobill is resumed for the user(s).
Updated Autobill control for Financial/Super Admin
Super Admin and Financial admins are now able to "Edit Start date" for Autobilling plans. This option can be found by selecting a user in User Management and opening their autobill tab.
User information now ports child basic information forms from the backend
If a project is copied with user information porting turned on, adding a returning user to the new project on the backend will transfer user information for both the head and child unit.
The forms will populate with the user's information after an admin creates a new user on the back end using the user's username from the previous project. Until now, when a returning user was added to the new project on the back end, only head unit data ported.
Note on porting information as an Admin:
When an admin ports information by creating a user on the backend, the forms that were completed by the user are now marked as completed.